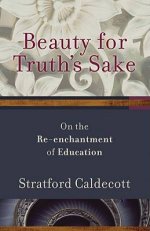 Beauty for Truth's Sake: On the Re-enchantment of Education by Stratford Caldecott (Grand Rapids, MI: Brazos Press, 2009)
Review by David W. Fagerberg (University of Notre Dame) for The Chesterton Review (Fall/Winter 2009)
I am asked to write a review of this remarkable little book, and I discover that one was presciently written sixty-eight years before it was published. Stratford Caldecott subtitles his book, "On the Re-enchantment of Education," and in 1941, at Evensong at Oxford University Church of St Mary the Virgin, C. S. Lewis said in his famous sermon ("The Weight of Glory") "Do you think I am trying to weave a spell? Perhaps I am; but remember your fairy tales. Spells are used for breaking enchantments as well as for inducing them. And you and I have need of the strongest spell that can be found to wake us from the evil enchantment of worldliness which has been laid upon us for nearly a hundred years. Almost our whole education has been directed to silencing this shy, persistent, inner voice; almost all our modern philosophies have been devised to convince us that the good of man is to be found on this earth." Caldecott is asking how we could break the enchantment that modernity has cast over us, and be re-enchanted by the world's majesty, order, and loveliness – in other words, its beauty.
According to Socrates, the object of education is to teach us to love what is beautiful, and the primary title of Caldecott's book professes that beauty exists for truth's sake. Beauty is the radiance of truth, its splendor (splendere means "to shine"), its glory. A light glows from lit coals; beauty glows from truth. But, alas, the modern period has made a "concerted attack on our confidence in the human capacity to know" (41) and education today suffers from the "fragmentation of the disciplines, the separation of faith and reason, the reduction of quality to quantity, and the loss of a sense of ultimate purpose" (28). This book wants to suggest a way by which to make a repair. Only, it is not exclusively concerned with institutions of lower and higher education. Although especially applicable to the educational system, Caldecott proposes that all of us are in need of this education, because "to be alive is to be a learner" (12). Much of the learning we do takes place at home, in the family, in school and after we leave it, and "we need to learn a new skill: how to keep learning" (12).
The repair that would re-enchant our individual life of education would require us to learn how to know the world properly. We have secularized, mechanized, demystified, and fragmented the world, and so lost "the ability to perceive the inner, connecting principles, the intrinsic relations, the logoi, of creation, which the ancient Christian Pythagorean tradition (right through the medieval period) understood in terms of number and cosmic harmony" (28). Thus the first chapter spends time describing the medieval liberal arts tradition (its trivium and quadrivium), not because Caldecott ever suggests we can simply repeat this system, but so we can learn how they did education with a sense of cosmic order. Our telescopes reveal a bigger universe today, but we have less cosmic order, so the great tradition has something to teach us. Caldecott proposes adaptations that would suit our own time. The second chapter gives an analysis of beauty, and suggests ways to rediscover the poetic imagination by means of symbol. When the ancient or medieval learners saw the world symbolically they were able to unite science and the arts – an ability that we have lost, along with an ability to unite faith and reason, nature and grace. The divorce between all these pairs have a common root.
So when Caldecott speaks about re-enchanting our education, he doesn't just mean emotional art and literature classes, he also means re-enchanting science and mathematics, and in chapter three he provides a glimpse into this "lost wisdom of the world." That he can make math intelligible and, even more remarkably, interesting to me is a testament to the clarity and perspicacity of his writing. To the western pantheon of Socrates, Plato and Aristotle, he adds the fourth figure of Pythagoras, who influenced the former three in the first place. This is a remarkable facet of the book. He desires to overcome "the opposition between the 'cultures' of science and the arts" by "awakening the poetic imagination" and reestablishing, "for the sake of science as much as for the arts, a truly humane education" (45). Our present approach to mathematics reduces everything to sheer quantity, and treats the skill as "a mental tool with no relation to truth except the fact that it assists us in manipulating the world" (55). Caldecott wants mathematics to assist us in wondering at the cosmos.
This order means that the cosmos is built on harmonies that can be expressed mathematically, and that led Pythagoras and Plato and the Middle Ages to conclude that "numbers themselves can be a path to God" (54). "Mathematics connects directly with theology. If this seems a bizarre notion, it is only because we are so fragmented in our thinking that God and mathematics appear to belong to completely different worlds" (73). So we are led into chapter four about the Creator who is Trinitarian love. And chapter five traces that the traces of that Creator's fingertip by considering cosmic order in music, architecture, and earth and sky (ecology and astronomy).
But how can a modern person who knows the world is round, not flat, relate to all of this? That answer is revealed in chapter six, which finds cosmology consummated in liturgy. "What defines secularism more than anything is an inability to pray, and the modern world in its worst aspects is a systematic assault on the very idea of worship …" (125). We are not so different from our medieval forebears in wanting to think, feel, remember and imagine, but we are different for possessing "a philosophy which does not allow [us] to connect these central experiences of life to some transcendent realm, and to the origin of all things" (128). In order to recover these connections, we do not need to limit our science, we rather need to expand our philosophy. Indeed, "a popular misconception has it that medieval man thought the world was flat, and modern science gave us a round world. … But the truth is almost the opposite of this. Medieval man inhabited a three-dimensional cosmos which has now been largely replaced by a flat universe, with no ontological depth" (139). Christian faith gives man more freedom than he has otherwise. The question is how modern man will find his cosmos to be liturgical in its very nature – both in its art and in its science/math, for if the latter is not also liturgical then we continue our separation of faith and reason, grace and nature. "When we come to Mass – or to the nearest equivalent of that liturgy our faith permits – we should be able to experience a sense that here, at last, all the threads of our education are being brought together. If we don't, something is wrong with our education or our liturgy" 131).
This book is an example of the thesis it contains. Caldecott wants to say that everything folds into truth through beauty, and so he ranges over Pythagoras, Thomas Aquinas, cosmologists, Indian philosophers and Islamic thinkers, modern astronomy and ancient numerology. The bibliography yields a year's worth of reading to any interested party. Nothing known to reason (arts or sciences) is off limits to faith because "faith orients reason toward the transcendent, so that reason remains open to a light from above" (143). Education is "the way we pass on or transform our culture" because it carries a message about our values; the keys to meaning are "form, gestalt, beauty, interiority, relationship, radiance, and purpose" so an education would begin with the perception of form; and this education "begins in the family and ends in the Trinity. Praise (of beauty), service (of goodness), and contemplation (of truth) are essential to the full expression of our humanity" (17).
Human beings love mystery tales for the idea that there are secret clues scattered across the landscape by an agent made the more mysterious by his hiddenness; witness the popularity of "The da Vinci Code." Caldecott says that here in the cosmos we have a true mystery; the clues are real; the intellectual agent who left those clues is real; this is not the fiction of Dan Brown, it is the real history of salvation. "The chapters … are not just about education, although if taken seriously they would change the way we teach. They are also about the search for beauty in art, science, and the cosmos – in short, the search for the Logos" (16), however hidden are the clues he has left leading to himself.
Henri de Lubac offers a metaphor for how faith and reason relate when he writes "If it can be said that, in climbing up the ladder that leads from reason to faith, we face insurmountable distances between certain rungs, the same is not true when coming down the ladder from faith to reason" ("Apologetics and Theology," in Theological Fragments). There is no philosophical, scientific, or mathematical deduction of God in this book; rather Caldecott has soared to the top of the ladder by liturgy, and these chapters are each a rung on the ladder to be marveled at as we descend through a lifelong education.